How the Catonsville Sunday Farmers Market Turns Green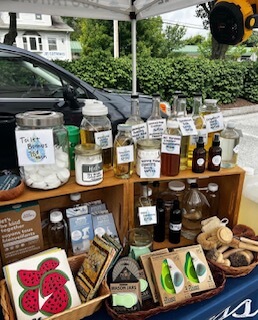 Every Sunday morning the Catonsville Sunday morning the Farmers Market at 15 Mellor Avenue is bustling. Residents move through the street buying their fresh fruits, vegetables, meats, seafood and a wide range of other items from family-owned farmers and small business people. But do you know how the market helps the environment?
Of course, buying local cuts down on the fuel emissions produced from shipping products across the country. However, so many of our vendors go a step farther.  Refill Goodness is a vendor dedicated to to helping you go green. Whether you're looking for reusable sandwich bags, containers or bento boxes, or searching for environmentally friendly household products, they have it all. Not to mention their refillable cleaning products! You bring the container, and they will fill it with environmentally friendly cleaning products. Or you can buy the container from them and bring it back when you need a refill.
Dan Candle is also part of the environmental push at the market. If you buy a candle from, Dan, which burns about 50 hours, you can return the jar and get a dollar back off your next purchase. He even recycles any wax left in the bottom.
Charlottetown Farm offers the same incentive with their jars as well. Bring the jar back and get $1 off your next purchase. Saving the environment while saving money.
B'More Poultry & Plants  is happy to recycle your egg cartons. Just bring them by and they won't go to waste.
Dimitri Olive Oil  allows customers to come by for refills. Ask them about this program that cuts down on the number of bottles used.
The market even has Clear Choice Utility Advisors who can help you slash your energy usage and your monthly bill. They are there every other week right next to the Breadery.
Make helping the environment part of your Sunday routine by visiting the Catonsville Sunday Farmers Market. To find out more, go to: Sunday Farmers Market - Greater Catonsville Chamber of Commerce